If you are renovating your home this spring your front door is the first impression, why not make it a good one? Time for a front door facelift! Here are some tips and tricks on selecting the right paint color for your front door that will have a lasting impression on your guests.
1.) Before you head to the paint store, do a little research! If your home has any historical value, check with a local designer or do some research on what colors were popular or most prominent during the era the home was built.
2.) Bring your samples to the paint store! Whether it is a shingle, siding, or exterior paint color of your house, bring it with you. It will make selecting a paint color easier when you are prepared.
3.) Narrow it down to 3 paint choices! After looking through the paint swatches, select three colors and purchase small sample cans of the paint.
4.) Test it out! Paint your 3 paint choices on your front door near the trim in the morning, and then take a look at how the colors of the paint change throughout the day and into the night.
5.) Go for it! After testing out which paint color looks best on your door, go with your gut instinct! The easy part is you do not have to worry…it is just paint, so you can paint over it if you aren't fond of your choice.
Now that you have the surefire way of getting one step closer to your Front Door Facelift, here is some color inspiration!
Cool Tones: Blue and Green tones are calming and look fabulous with white, grey, black, and even some brick exteriors. Turquoise has become a quite popular color for a front door, and we have to agree!
Warm Tones: Red, Orange, and even Yellow tones are comforting and can be exciting such as a bright yellow front door! Or you can pull off something completely unexpected like a Fuschia front door! Who wouldn't want to be friends with someone who lives behind a pink door? Talk about personality!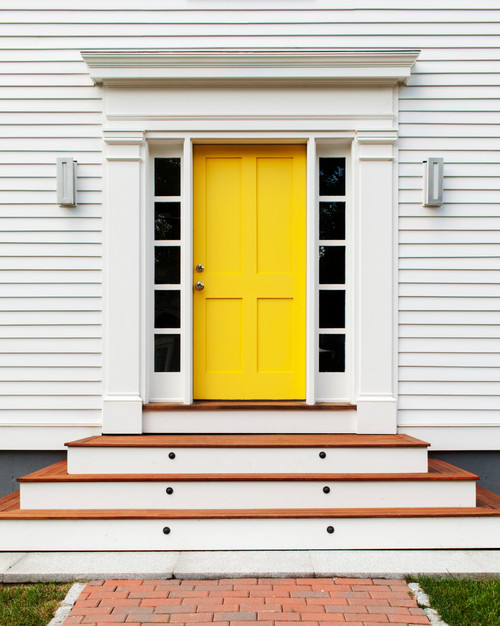 Leave a comment