Sliding Barn Doors are quite the space savers like the old pocket door standby, but these days Barn Doors are making quite the statement. With exposed hardware, texture from reclaimed wood materials, and their ability to transform a room are giving designers and DIY'ers space saving solutions. Here are some steal-worthy Barn Door ideas that you can incorporate into your home!
Say Yes to Color. This Barn Door separates the dining room from the kitchen, but it's biggest appeal is the bold pop of color. Red is an appetizing color, so choose a red or warm tone if you want to incorporate this look into your dining room as well.
Hidden Storage never looked so good. Swap out your pantry's basic sliding doors with a barn door like this one. You will not have to worry about the doors going off track with a durable wall mounted track, and this barn door idea looks like a custom design.
Versatile Storage is key in a small space, and this case a hidden buffet is a fabulous idea! I love how you can display your china or glassware with the barn door open, but if you were to have a formal dinner you could slide the barn door shut and display the menu on the chalkboard. You could DIY the chalkboard with chalkboard paint, and feature menu items, holiday slogans, or for everyday use draw up a to-do list.
Reuse your front door or interior doors. I love the window panes in these barn doors to separate living spaces or use for a walk-in pantry. Remove all your interior bedroom doors, and simply run them on a wall mounted track for a more industrial look.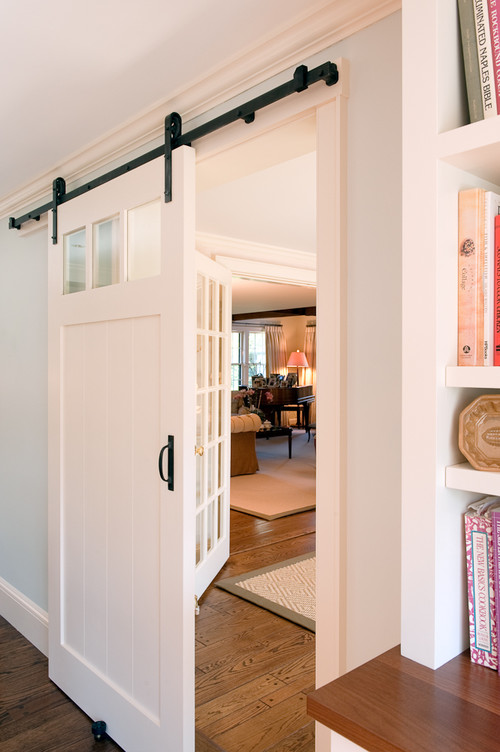 Leave a comment